ACT OFFERS BOLLARDS THAT GIVE YOU THE IMPACT PROTECTION YOUR FACILITY NEEDS TO STAY PRODUCTIVE AND PROTECTED
Impact Protection: Steel Pipe Bollards
Industrial properties like warehouses and factories consist of many people arriving in heavily laden vehicles, operating large machinery, and transporting heavy containers of goods. In such a complex and high-traffic space, safety is a big concern. Industrial steel bollard posts can be installed to increase safety and impact protection in your warehouse.
What Are Steel Pipe Bollards?
To put it simply, bollards are short, sturdy vertical posts that are used to protect the perimeter of an area and ensure safety and security for those around them. Bollards keep you, your building, and your employees safe.
In order to increase protection and add traffic-stopping power, bollards made of structural grade steel may be filled with concrete. ACT's steel pipe safety bollards' plastic top caps are removable, so that you can easily fill your bollard with concrete. The pipe adds strength, while the concrete helps the pipe resist buckling or collapsing at the point of impact. If your warehouse does not need concrete-filled bollards, the steel pipe bollards can be closed up with the removable top caps to keep moisture and other objects from getting inside your bollards.
Why Does My Warehouse Facility Need Steel or Stainless Steel Pipe Bollards?
Loading docks take a beating. Even the best drivers have difficulty maneuvering large and heavy delivery trucks. To help protect the loading dock areas, you can surround the building walls, loading ramps and high bay doors with steel pipe bollards, or for more environmental protection, stainless steel pipe bollards.
Bollards on either side of the loading bay will serve as a visual guide for your warehouse truck operator to get long semi-trailers into the correct position. These bollards will protect your facility from damage due to repeated low-speed impact from heavy vehicles. When placing steel pipe bollards on the raised bay for visual guidance, you can use embedded steel or Bolt-Down Bollards . Collapisble Bollards
Not sure which bollard would be right for you and your business? We've got you covered. Contact one of our Winston-Salem safety experts here and they will point you in the right direction.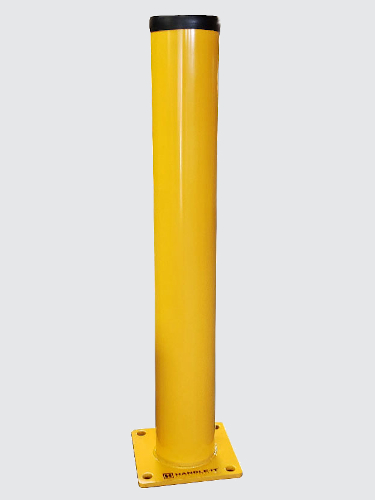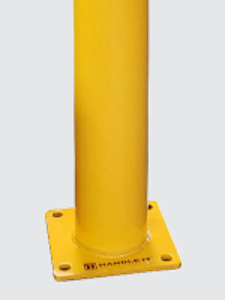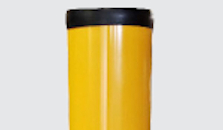 Why Would I Need Post Guard Bollard Covers?
Post Guard Bollard Covers are made to easily slide over the post for a snug, secure fit. Because of their impact-resistant material that is impenetrable to weather conditions, by adding post guard bollard covers, you can eliminate scraping, painting and repainting your bollards.
Why Choose ACT for Bollard Application Needs?
ACT understands how hyper competitive your business environment has become. ACT also understands how the costs from unnecessary interruption to operations from vehicle accidents can negatively impact your company's profit and productivity.
Bollard applications are an easy and versatile addition to your warehouse facility. ACT helps your business anticipate where accidents may happen and install impact protection and added safety measures to prevent any crises or accidents.
ACT's Bollard Applications
At ACT, we offer bollard applications to help your business stay safe and secure. We're committed to helping you get the job done as efficiently as possible, and we're happy to answer any questions you have along the way.