Are you in need of a big forklift for a big job?
Having the right equipment is critical for any business and any job. That's why ACT believes a big forklift is the solution to your big material-handling challenges. Whether you're looking specifically at High Capacity diesel forklifts, marina forklifts, warehouse forklifts or construction forklifts in the Winston-Salem area, Atlantic Coast Toyotalift has you covered with Toyota Heavy Duty Material Handling Equipment. These big, heavy duty forklifts were built to conquer extremely heavy applications.
Atlantic Coast ToyotaLift's heavy duty forklift applications
ACT's heavy duty forklifts are used in various industries. The need for high capacity forklifts is everywhere from ports, to steelyards, lumberyards, brick and block yards, railyards, freight yards, forging and casting facilities and marinas just to name a few. These big forklifts can lift and move big items like shipping containers, manufacturing machines, oversized boats, or steel, lumber and concrete on construction sites. Atlantic Coast ToyotaLift's high-capacity forklifts provide you with reliable equipment capable of lifting between 22,000 and 125,000 pounds.
ACT offers Toyota pneumatic tire forklifts in Winston-Salem
When you need a forklift to handle uneven outdoor terrain or trek through extreme weather conditions like sleet and snow, a Toyota pneumatic tire forklift is made to safely and efficiently handle loads outside in less-than-perfect conditions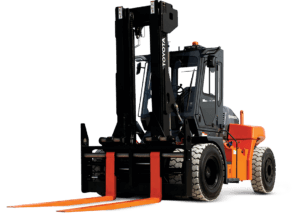 High-Capacity Core IC Pneumatic
Toyota's High-Capacity Core IC Pneumatic is the big forklift that delivers the power and versatility you need to meet big material handling challenges in any high-capacity operation. With standard load capacity up to 30,000 pounds, this heavy-duty forklift is ideal for lumber, steel and automotive applications and can help you move almost anything. Top it off with the durability of a rugged drive axle and Dana transmission-- this big forklift is designed to work harder and smarter for you.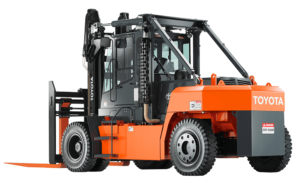 High-Capacity IC Pneumatic
Toyota's High-Capacity IC Pneumatic Forklifttakes the top spot in big forklifts in Toyota's product line. With a lifting capacity to handle heavy loads up to 125,000 lbs., this large, rugged diesel forklift can handle almost any heavy load. You're most likely going to find this heavy duty forklift on a construction site or loading and unloading large shipping containers. The High-Capacity IC Pneumatic Forklift is designed for your extremely heavy industrial applications and lifting solutions.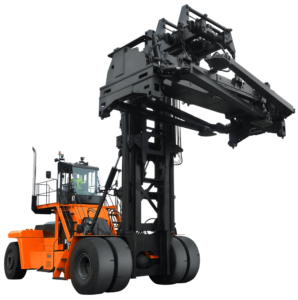 Loaded Container Handler
Toyota's Loaded Container Handler is the diesel-powered king of the port. This big forklift is up for big tasks with a lifting capacity of 90,000 lbs., a 47 fpm lifting speed, and the ability to stack containers up to six high. This exceptionally stable container handler can be used in the most rugged applications. This heavy-duty forklift is most popular in ports, terminals and shipping yards. The Toyota Loaded Container Handler will provide fast lifting cycles, high stacking and reduced freight costs.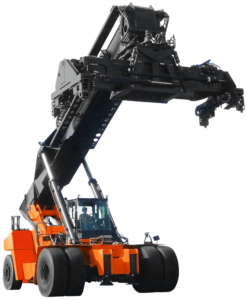 Reach Stacker Container Handler
Toyota's Reach Stacker Container Handler is ACT's container stacking champion. This diesel-powered heavy duty forklift is used to handle a diverse range of heavy-lift applications. This big forklift can load and unload trailers, transport wind turbine components and more. To get the job done effectively and efficiently, the Reach Stacker Container Handler lets you stack up to five containers high with a reach depth of three rows. With a lifting capacity of up to 99,000 lbs., this big forklift is built for any heavy-duty job.
ACT offers Toyota cushion tire forklifts in Winston-Salem
Toyota has cushion tire forklift models ready to handle the heaviest loads in your manufacturing facility. When you have concrete floors and won't need to drive your equipment outside, a cushion tire forklift may be perfect for your high capacity application. These big forklifts are great for handling heavy molds, dies, large paper rolls, machine components, steel parts and more.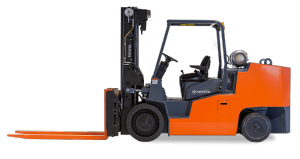 High-Capacity Cushion Forklift
Toyota's High-Capacity Large Cushion Forklift is a homerun when it comes to versatility in the warehouse or manufacturing facility. Need to lift large pallets full of heavy components? This high-capacity big lift has you covered with its ability to lift up to 22,000 lbs. The High-Capacity Cushion Forklift will have those pallets of metal moving in no time. With its Dana 3-speed power shift transmission and 12-volt electrical system, this heavy duty forklift is up to your warehouse's latest task. Have a paper plant with larger than normal rolls? The High-Capacity Cushion can come with a roll clamp to make these operations a breeze.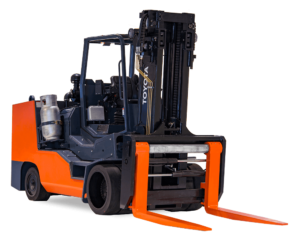 High-Capacity Large Cushion Forklift
Toyota's High-Capacity Large Cushion Forklift is an indoor mammoth of a machine. Who said all the heavy lifting is done outside? Ideal for automotive environments and moving steel inside manufacturing facilities, this big forklift gives you the ability to lift up to 100,000 lbs. of the meanest metal. Because Toyota understands that sometimes, hauling high capacity loads is an inside job. This heavy duty lift has a heavy duty 5.7L V8 engine-- one of the leading engines in its class. The High-Capacity Large Cushion Forklift is as dependable as it is strong.
High-Capacity Adjustable Wheelbase
The Toyota High-Capacity Forklift with Adjustable Wheelbase is a master of flexibility. The high-capacity sit down counterbalanced forklift allows operators to adjust to varying load weights with an extendable counterweight that includes removable slabs. This big forklift has a lifting capacity of 80,000 lbs. Need to move a big, awkward item? The multi-stage telescoping boom is able to safely and efficiently move large equipment such as industrial machinery or massive engines.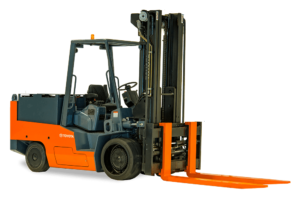 High-Capacity Electric Cushion Forklift
The Toyota High-Capacity Electric Cushion Forklift gives you the versatility to lift massive loads without the need of traditional IC engines. This big lift is packed with a 72 or 80-volt electrical system and a lifting capacity of 40,000 lbs. The versatile electric power and high visibility combined with a large 92-inch wheelbase means you'll have the power you want and the maneuverability you need for your heaviest indoor duties.
For heavy duty forklifts in Wilmington, NC, contact ACT at:
For heavy duty forklifts in Winston-Salem, contact ACT at:
355 Business Park Dr.
Winston-Salem, NC 27107
Phone: 800-849-5438
For heavy duty forklifts in Roanoke, VA, contact ACT at: