WINSTON-SALEM HAS YOUR PIGGYBACK FORKLIFT
The Manitou TMT 55 Series Truck Mounted Forklift
ACT is proud to offer the updated and highly popular piggyback forklift by Manitou, the TMT 55 Series Truck-Mounted Forklift. With its Kubota engine, updated hood design, and improved instrument cluster, the TMT 55 Series has become one of the most-asked-for piggyback forklifts, or truck-mounted forklifts, on the market. Truck-mounted forklifts speak for themselves when it comes to on-site project benefits. Their flexibility helps control delivery schedules, helps get product delivered to difficult areas and, as a result, improves overall customer satisfaction.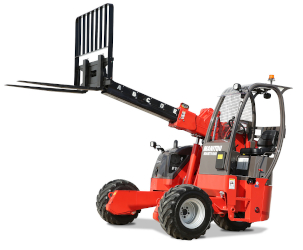 About the TMT 55 Series
The TMT 55 Series Truck-Mounted Forklift adds extra elements of smoothness and control to that convenience with its many useful features. One of those features is a telescopic boom that boasts a forward reach of 4'10", increasing its ability to handle materials where a loading/unloading bay is not available. The boom is also equipped with standard stabilizers and tilt for more load control. This piggyback forklift also has the shortest trailer overhang in the industry, and a lighter overall machine weight that allows for more materials to be hauled in each load, which helps customers offer maximized value to their end users.
As another added benefit, Manitou's TMT 55 Series Truck-Mounted Forklift is ergonomically designed to perform handling tasks even when space is at a premium, such as when the lorry is parked on the side of the road or alongside a wall. Those compact dimensions make it particularly popular with logistics professionals, as its ability to load and unload from one side of the trailer saves a lot of valuable time, bringing a return on investment quickly. With this truck-mounted forklift, you can safely make deliveries to customers with no extra-exhausting heavy-lifting, regardless of delivery site surface conditions or the amount of space available.
Finally, with several travel models to match a variety of applications in the field, this piggyback forklift offers solutions for over the road and off the road, which means you're covered for every project.