GET A RISE OUT OF A SCISSOR LIFT OR AERIAL LIFT FROM LIFT-A-LOFT
Lift-A-Loft Brands for sale in Wilmington,NC
When floor space is at a premium, it's vitally important to have access to vertical mast lifts that can fit in tight workspace areas and provide up-and-over reach. But because of a lift's requirement for safe, quality construction, not just any brand will do. You need to have the assurance of durability and safety underneath your work crew. That comes with the Lift-A-Loft brand. Lift-A-Loft specializes in designing, engineering and customizing safe aerial lifts, scissor lifts and other vertical mast lifts designed to operate in narrow aisles and congested plant environments. And ACT is happy to provide this line of lifts for sale in our Wilmington, NC location.
Why a Lift-A-Loft Aerial Lift?
If you haven't tried one of Lift-A-Loft's aerial lifts, then you're missing out on "top-of-the-line" convenience. These self-propelled aerial lift platforms offer a combination of high lift, long reach, and easy maneuverability for a variety of industrial applications. They're known for their versatility, stability and durability. And operators report that they feel safe, as well as comfortable, working from a Lift-A-Loft aerial lift. You may know these lifts by one of the many names that operators refer to them by: access lift, aerial work platform, man lift or scissor lift. The scissor lift is a popular vertical rising platform that offers extra base support and the confidence that goes along with that. All of these aerial lift systems are used extensively in a diverse number of applications.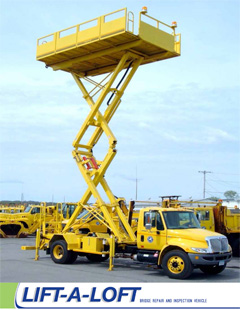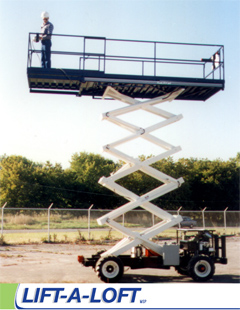 The answer to all your Aerial Lift needs
Through ACT you can also find Lift-A-Loft aerial lift solutions for unique or unusual needs. And, if you're not sure about which lift is right for your particular workspace requirements, we can help with that. With an onsite assessment, recommendations can be made for the correct solution. Options include sale, lease, rental, as well as the refurbishment of existing units. If your company receives the annual ANSI required inspection for aerial work platform equipment, call us first. We can get you prepared for that.